Liberation, revolution and techno – 24 hours in Kyiv.
May 20th 2019, Inauguration Day for the President of Ukraine and former comedian Volodymyr Zelensky, and somehow my friends and I had found ourselves queuing up outside an abandoned Tetra Pak factory in industrial Kyiv.
I had heard rumours of Ukraine's underground music revolution so I queued, waiting to experience it for myself.
Following the 2014 revolution, government curfews and suspicions of large groups meant that along with dreams of becoming part of the European Union, nightlife in Kyiv came to an abrupt end.
But young people will always want to party, and the uncertainty of the future gave clubbing a greater purpose: allowing people to escape their reality and find a community that many were desperate for.
As I stood in the queue with my friend Katarina, a sociology student from Kyiv, she told me: 'Today my country became 20% less democratic. Tonight is my rebellion.'
As we entered the abandoned warehouse, a story in itself of Kyiv's fallen industrial past, hundreds of Ukrainians filled the building in front of me, women in leather boilersuits and men dressed in drag – a shocking contrast to the conservation attitudes present in daylight and a quick reminder of the significance of this evening's events.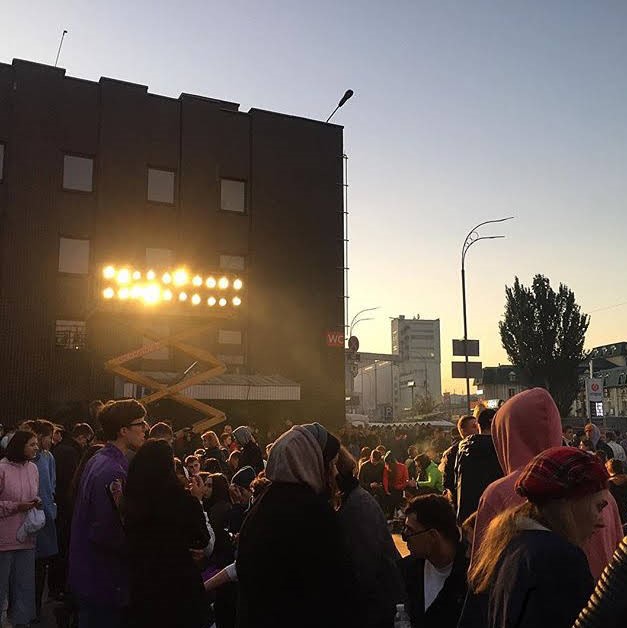 Techno has always been associated with freedom: it's the music that symbolised the fall of the Berlin wall, where clubbing in abandoned buildings became a symbol of unity between the East and the West.
Suddenly it went silent and Sergii Leschensko, former member of parliament announced the name of the next DJ and invited everyone to join in for this celebration of freedom.
As a visitor in this city, I didn't feel alone. I was together with those dancing, I might not understand the struggles that this country has been through, and as someone from a country that is desperate to leave the EU, our lives and our histories couldn't be more different.
But there are a few things that can bring young people together, and one of those is music.
Kyiv has suffered a violent history and faces an uncertain future but this evening gave me a sense of hope for the future of Ukraine. The young people have had enough. You could hear it in the music.